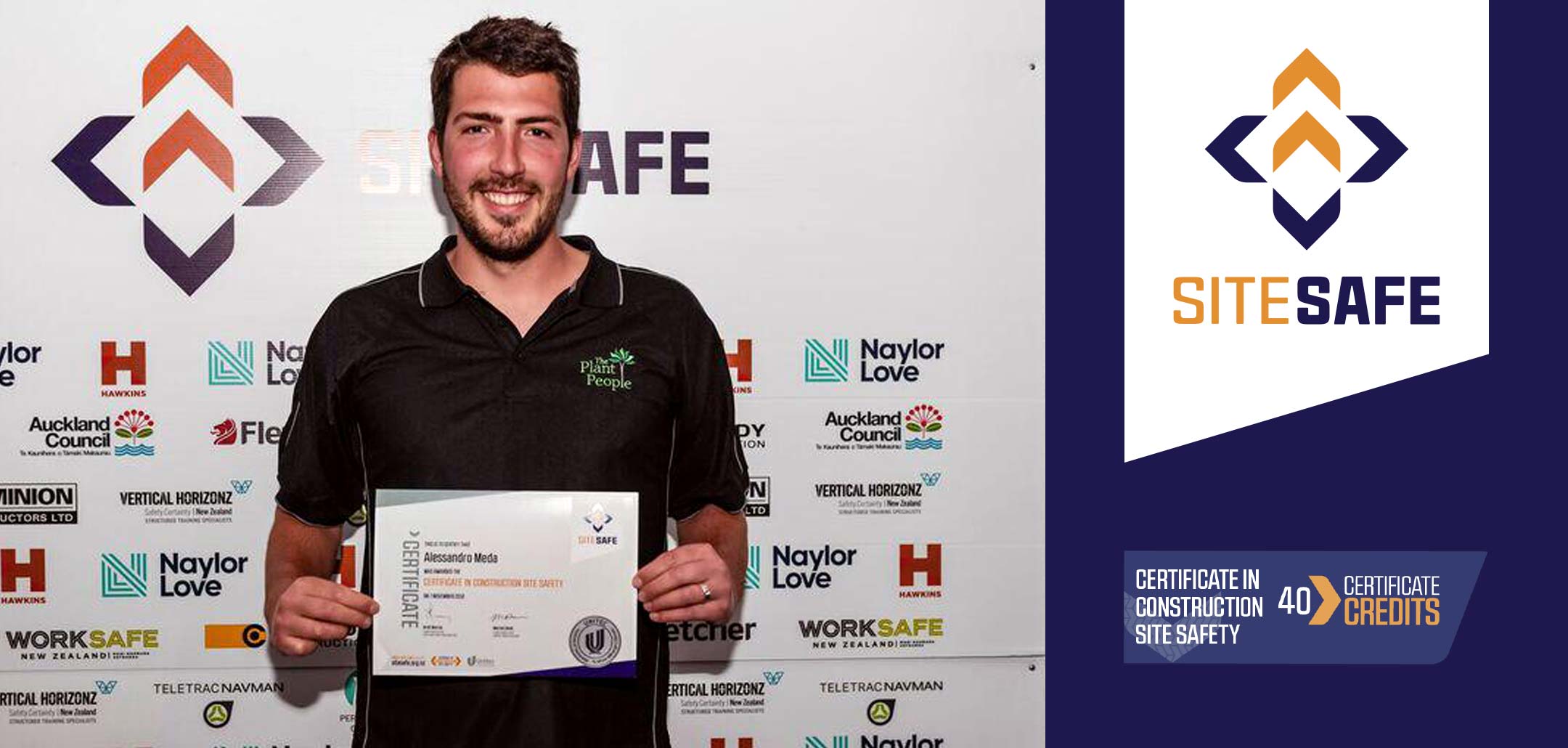 "The company works really hard to make sure that we always go home safe at the end of the day." – Alessandro Meda.
Congratulations!
The Plant People would like to extend their sincerest congratulations to Alessandro Meda, a Project Supervisor for our Maintenance division. Alessandro has joined a select group of fewer than 3000 people across New Zealand by completing Site Safe's Certificate in Construction Site Safety.
Many hours of learning across a range of Site Safe courses are required to achieve this Certificate. With the successful completion of each course, Alessandro has accumulated credits and taken a step closer towards graduation. A minimum of 40 Site Safe credits is required to graduate the Certificate in Construction Site Safety.
The course has been designed in conjunction with Unitec to ensure that graduates will:
Become a health and safety leader in their chosen career
Demonstrate their commitment to safety training
Proudly stand for safety in the New Zealand construction industry
Many of these courses also contribute to a student's NZQA Unit Standards Record of Achievement.
We're extremely proud to have Alessandro represent The Plant People, our values and our commitment to workplace safety. Alessandro is the first of our employees to earn this highly-respected qualification.
Introducing Alessandro Meda
Alessandro began his career with The Plant People five years ago, starting out as a Labourer. He has qualifications from Italy that are the equivalent of New Zealand's Level 4 Trade Certificate in Horticulture. In just a few short years at The Plant People he has demonstrated a high level of hands-on skill as well as leadership qualities.
Now elevated to Project Supervisor, Alessandro oversees 13+ workers and is involved with some of our biggest contracts, including Auckland Airport, Trust Management and our Hobsonville operations.
"My honest opinion about The Plant People is that it is the safest work environment that I have experienced. The organisation invests constantly in H&S courses for all of their employees and the company works really hard to make sure that we always go home safe at the end of the day," says Alessandro.