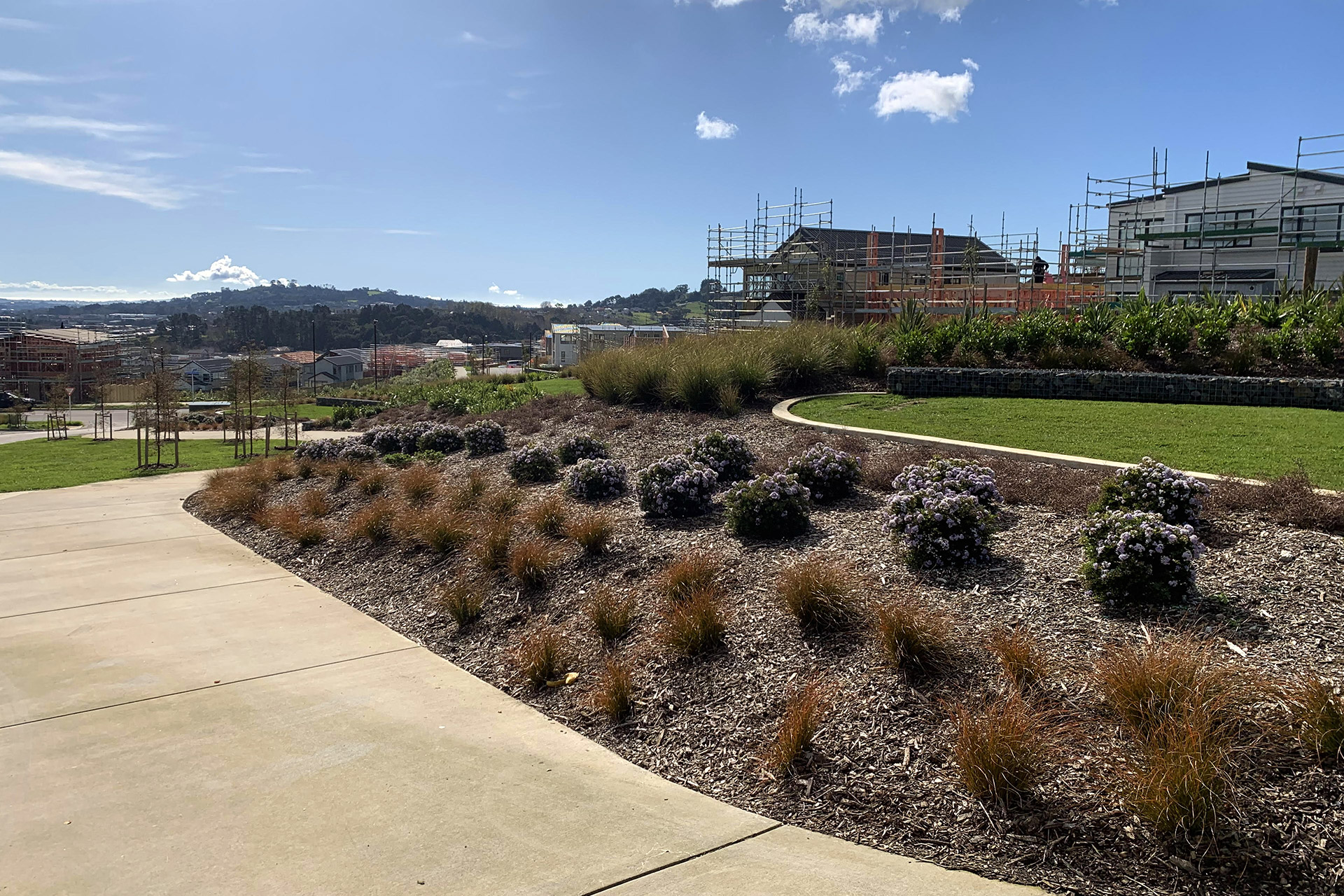 Our Landscape Construction division has completed hard and soft landscaping for the green space at Bremner Ridge, Flat Bush.
Landscaping for Bremner Ridge Park
The Plant People have completed this high-end landscaping project for Templeton Group, the developers behind Bremner Ridge residential development. The design of this green space optimises the contours of the rolling landscape and provides the new community with an opportunity to enjoy the picturesque outlook.
Our landscape construction team has constructed concrete pathways and the gabion rock walls and has installed park furniture dotted strategically around the park. Our landscaping team undertook the planting of specimen trees, the mass planting of the beds, the supply and install of planting media and our own processed mulch cover. The maintenance team were responsible for the horticultural and turf maintenance, which covers fertilising, broad leaf control, plant husbandry and litter control.
Higher up the hillside, you'll find clusters of native Flaxes. Lower down in front of the seating areas, there is a mix of Hebe (Hebe spp.), Coprosma, Carex grasses and Griselinias. These plants have been selected for their hardiness to withstand being exposed to a windy environment. All these plants have been grown and supplied by our in-house nursery, Signature Plants. Light lavender-coloured flowers and pom-pom-shaped shrubs grow low to the ground so they will not obstruct the views as they grow. Finally, bordering the leading edge of all gardens, we've planted a line of orange/brown grasses that provide the perfect accent to each garden bed.
About Bremner Ridge
Located at one of the highest points of the Flat Bush area, Bremner Ridge sprawls across a sunny hillside with a north-western aspect. The residential development brings a country vibe to Flat Bush, where its design guidelines preserve its heritage with a modern touch. The Plant People is proud to be part of this quality development project.